"From the very first, architect and librarian have had in mind the fact that one or two generations is a very short time when compared to the life of a university, and that no British Columbian now living can say with certainty to what dimensions the institution may grow in the course of even the next hundred years. This unknown, but vital, factor of expansion was at all times sought to be provided for in designing the library building. It has been accomplished by planning a building to be erected in successive units, as means permit and growth demands"
-- John Ridington (below right), first University Librarian, on the opening of the original Library, 1925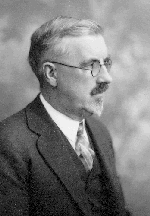 In preparation for the development of the new Irving K. Barber Learning Centre, the UBC Library has undertaken the digitization of approximately 500 architectural drawings of the Main Library. These drawings chronicle the historical development of the building from 1923 to 1964, and will be invaluable in providing important information to assist with the removal of the building's wings and the construction of the new facility around the heritage core.
The architectural drawings come from two sources: the records of Thompson, Berwick, Pratt and Partners (TBP), and the Library. They can be accessed by going to the file lists, which provide file- and item-level descriptive information for each drawing followed by a thumbnail image that will link to a full-size .PDF image (requires Adobe Acrobat). The TBP&P image gallery does not include the descriptive information, but arranges the drawings in chronological order.
Thompson, Berwick, Pratt and Partners

Library