UBC Vancouver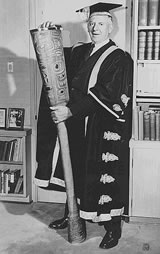 The history of UBC's mace dates back to 1957 when President Norman Mackenzie (left) asked B.C. Binning to design the object. Binning and others contacted colleagues for design ideas.
Early in the planning stages, however, it became apparent that the UBC mace would be unique. After Charles Comfort at the University of Toronto provided some preliminary design advice in May 1957, Binning responded by saying that, "The idea here, however, is generally of a more indigenous kind, involving the local folk-lore in emblematic terms and using some of the characteristic materials in its making."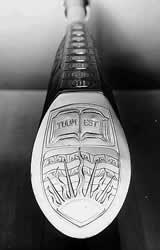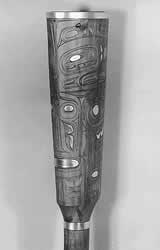 In fall of 1957 the University commissioned Haida carver Bill Reid to undertake the project. Owing to his heavy workload, however, Reid later suggested that George Norris be asked to help design and carve the mace. The planning of the mace took some time and a final design was not approved until 1959.
Norris carved the mace from a block of yew and it included a stylized thunderbird on the thick upper portion (right). The mace also featured the use of copper that was prominent in Northwest Coast native art (far right).
Norris completed the mace in the fall of 1959 and it was first used at the October congregation where the Director of Ceremonies, Malcolm McGregor, carried it for the first time.
UBC Okanagan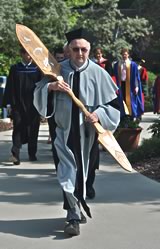 UBC Okanagan displayed its own University Mace for the first time at its Spring 2009 Convocation ceremonies (left, image courtesy of UBC Okanagan Ceremonies & Events) .
The mace was created by First Nations artist Sheldon Louis of the Okanagan Indian Band. Carved from a single piece of alder wood, it combines Okanagan Nation traditions with university customs.
The main art work on the mace features three symbolic spirit icons -- a mother bear with her two cubs, the image of the mountains, and water -- given to UBC Okanagan in 2005 by the Okanagan Nation elders. The spirit icon gifts were selected by a group of First Nation elders, led by Andrew McGinnis, an Okanagan Traditional Medicine Keeper from the Penticton Indian Band, and Victor Antoine, an elder of the Okanagan Indian Band. Each spirit icon was chosen carefully for its special significance to the region, reflecting local Okanagan Nation tradition, culture and knowledge.
The mace also features a number of University symbols, including the UBC Okanagan logo, the University coat of arms and the UBC motto Tuum Est. In addition, the back of the mace displays the word Suknaqinx, which is of the Nsyilxcen language, spoken by Okanagan's original people. Roughly translated, it means "the ones who stand on the hill and are seen and heard from far away."
The UBC Okanagan Mace, which was carved in the shape of a paddle, representing the importance of Okanagan Lake to the region's people, is also inlaid with silver, applied by First Nation silversmith artist Justin Terbasket of the Lower Similkameen Indian Band.