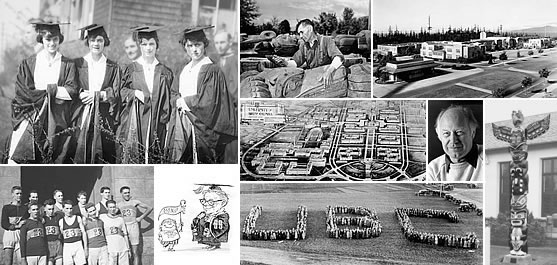 The University of British Columbia Archives serves as the institution's corporate memory by identifying, preserving, and making available for use the University's permanently valuable records, including textual, photographic, and audio-visual materials. The Archives also acquires records of independent student, alumni, and employee organizations; private papers from prominent faculty and alumni; University publications; and select research collections.
The Archives also coordinates the University's records management programme; supports the administration by preserving evidence of past decisions and events; serves in a public relations capacity by disseminating information about UBC's history; and supports academic research through the provision of reference services and specialized research tools.
From the FAQ...
University Archives
What's New
Notice to our users: Many of our digitized historical resources have been moved to the Open Collections platform. Learn more...
Please note that, effective 31 July 2015, records from the Alma Mater Society fonds are available directly through the Alma Mater Society Archives, rather than the University Archives. More information...
General history updated to include references to UBC's memoranda of affiliation with the Musqueam First Nation and the Okanagan Nation Alliance.
Read the University Archives blog for more news and commentary!
---
Last modified: Nov 16, 15