Building a "New" Faculty Club
---

As part of a major fund-raising campaign begun in 1957 to commemorate the province's centenary and the University's 50th anniversary, President Norman MacKenzie asked Leon Koerner to lend his name to the Honorary Campaign Committee and also if he would be interested in contributing an "advanced gift". Koerner indicated his willingness to provide for the planning, construction and furnishing of a new Faculty Club. He observed that: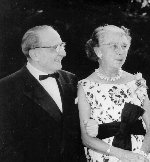 "Thea and I have contemplated for some considerable time past, that members of the University community should have a centre on the University grounds serving as their professional home, where they might mingle, exchange ideas and increase the sense of teamwork so essential a part of University life, and that such quarters should be of a kind appropriate to the cultural importance of the University....we wish the building and its furnishings to be first-class, in every respect, so that the building might be in keeping with the important place it will fill in the life of the University, and be commensurate with the dignity and standing of the University and its members."
To this end, Leon and Thea Koerner (above left) pledged $600,000 for the Faculty Club and University Social Centre.
The University secured the services of Fred Lasserre, a UBC professor of architecture, to design the facility (original models at right), and construction began in January 1958.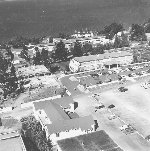 A decision was made to build the new faculty club on the site of the old one at the north end of the Main Mall. To maintain service during the construction period, the old club house was moved to the north parking lot where it continued to operate (left).
The Faculty Club proper was located on the main floor of the building providing the following features; entrance and reception foyer, music alcove, reading room, cocktail and games room, main dining room, and snack bar. The University Social Centre occupying the top floor was "designed to permit the University to receive and entertain guests in suitable surroundings" and included a dining room and five bedrooms. The lower or ground floor was scheduled for later development.
Construction shots (1958-1959)
---

© 1999 University of British Columbia Archives