Rhodri Windsor-Liscombe
Emma Spenner Norman
Diane Archibald
Lara Tomaszewska

The Urban Community (1980-2003)

Lisa Moffatt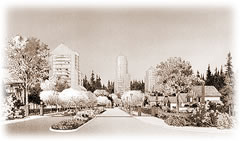 Sketch of Hampton Place, 1989 - UBC 44.1/495-2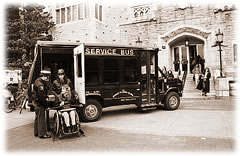 Shuttle bus service with handicapped access in front of Main Library, 1990 - UBC 44.1/634
by Lisa Moffatt
Development of the Urban Community
Formalizing the Capture of Information
In researching this time period, it became clear early on that there was little textual information available, which is interesting considering it is the most recent time period and I was expecting there to be more information than I could possibly wade through in the four months given to complete the preliminary research portion of this project. I learned as I delved into this work that no formal structure exists for the capture of departmental archival information.
In many of the buildings on campus there exist departmental and school files that are not then shared with archives, meaning that a great amount of important information is being lost, not only for this project, but for the telling of the history of the university in general. For example, the Lasserre building contains a room with documents from the architecture department, models, student projects, etc. It is not clear how valuable all of this information is, but nonetheless, we cannot turn our backs on the opportunity that there exists some gems, if you will, to tell the story of the history here.
The influence of the President's Office
Campus development came to a near stand-still in the early 1980s. President's reports from the early 1980s are riddled with references to the dire need for funding for new buildings (Smith, Kenny) on campus. The majority of funding for new infrastructure was previously received from provincial and federal governments. Financial constraints of the early 1980s meant that the school was squeezed for space and in need of proper educational/institutional buildings. This had an effect on the university's institutional effectiveness for providing facilities – some faculties were housed in war huts and temporary buildings. "Temporary buildings" still exist on campus today, in part, because of this situation.
Dr. David Strangway became president of UBC in 1985 and in 1989, launched a five year fundraising campaign titled World of Opportunity in an effort to raise $132 million dollars in private funds (that would be matched by the provincial government to a maximum of $66 million) to financially support new buildings, centres, academic chairs and fellowships. As a result of this, the fabric of the university changed. Strangway was very successful in his campaign, raising $260 million dollars in five years, but the new form of investment resulted in changes to the process for design approval of new buildings.
UBC used to have an Advisory Design Panel that was disbanded under Strangway around 1991. It is unclear under what circumstances the Panel was disbanded[1]. Designs were then to be reviewed by a group of people from Campus Planning and Development, usually consisting of the Director of Campus Planning and Development (now Campus and Community Planning), the university architect, a planner and associate director of planning development.
A consequence of both private investment and the lack of importance given to design criteria is that private investors began playing a larger role in decisions concerning design, architectural style, the architects chosen to complete projects. Also around 1990, there was a concern that the campus lacked a coherent architectural style or uniformity and a group of people involved in campus development reviewed the existing architectural style of buildings on campus. Their conclusion was that campus buildings were already so far from being uniform that there was nothing they could do to unify them in terms of design, style or colour schema.
The 1992 Main Campus Plan[2] outlined design guidelines that have been disregarded to this day (for example, preferred maximum heights of buildings is suggested as being no higher than 3-4 storeys, yet many of the buildings on campus, particularly buildings under current construction, such as new student residences, exceed this recommended height). In addition to this, each project was to have a set of design guidelines though it is believed that this practice has recently been abandoned. The Main Campus Plan only dealt with development of the Main Campus and not the South Campus or East Campus. The Main Campus Plan also discusses a Greater Campus Plan that would have dealt with a larger campus area for planning, but was never written.
Some problems with campus development was that the pressure exerted from top levels of governance to employees who were implementing the plans allowed for little if any time to make changes to designs or architectural styles. A former UBC Campus planner has been quoted as saying planning on campus is like "… a moving train and we are lying the tracks in front of it."
It is worth noting here that there exists a formal and informal hierarchical structure for campus development and a more functional informal structure, whose inner workings are far more difficult to uncover and understand. It is also evident that the Deans in the Strangway era held less influence in decisions concerning university fabric than they had previously - again, due to the nature of agreements attached to private investment. This is also a continuing practice under Dr. Martha Piper.
Current development on campus under the Official Community Plan has lacked a clear consultative process with "in-house" experts from the schools of Architecture, Landscape Architecture or Community and Regional Planning. The view held by U-Town development seems to be that academics are more concerned with academics and less concerned with real-world application of academia.
When the "municipality" steps in
UBC is on land under the governance of the Greater Vancouver Regional District (GVRD). What is unique about this situation is that the University does not operate under a municipality giving it more autonomy over decisions made involving the campus and its development. Advantages to this are that the university is often able to be innovative for example, the Forest Sciences Centre (1998) was built as a leading example of wooden construction. This building does not meet municipal building codes, although a number of code experts were consulted on the project to ensure its safety and success. Another example is the C.K. Choi Building (1996), which meets LEED (Leadership in Energy and Environmental Design) standards.
However, a third example of planning and development at UBC is less inspiring. In 1989 construction of a market residential development, Hampton Place, was initiated. Hampton Place, located at the intersection of Westbrook Mall and 16th Avenue, is the first market-housing complex to exist on campus and not without controversy. Very little, if anything was known about plans for this development until the land was cleared for construction. There was an uprising within the West Point Grey community who organized themselves to create the West Point Grey Residents Association, claiming the project satisfies a hunger for profits rather than local housing needs (Mia, 1989). Mark Betteridge, speaking on behalf of the UBC Real Estate Corporation (now UBC Properties Trust), defended the development as a choice the university has for using the land set aside for its own endownment, whereby "the profits from operating these rental high rises will be given back to the university on an annual basis" (Betteridge, 1989).
Furthermore, the project raised issues within the City of Vancouver as residents living on University Endownment Lands (UEL) would not pay municipal taxes, but would place demands on use of municipal services. As a result of the Hampton Place development, the GVRD intervened and in consultation with the University, wrote the Official Community Plan (OCP) in 1997. The OCP is now the legal document that guides all development on campus.
Within the OCP is a Memorandum of Understanding (MOU) between the GVRD and UBC detailing the role each institution will have in the relationship. Part of this MOU required the university to develop a Comprehensive Community Plan (CCP) to deal with institutional and non-institutional development on campus. The CCP outlines 8 non-institutional residential areas (called neighbourhoods) for development. Currently UBC is in the process of approving the 8 Neighbourhood plans.
Current Campus Development
Currently, as mentioned previously, UBC is undergoing a great deal of development under the OCP and CCP. Guiding this development are numerous documents that seem to have been developed independent of each other. The documents that currently exist include:
Academic Mission
Trek 2000 – UBC's Vision
Academic Plan
Main Campus Plan
Sustainability Plan
Landscape Plan
Strategic Transportation Plan
Way-finding Plan
Facilities and Infrastructure Management Plan
Official Community Plan for Part of Electoral Area 'A'
UBC Comprehensive Community Plan
A Legacy and a Promise – Physical Planning Principles
It is not clear how each successive plan has been informed by the previous plans. Clearly, in an academic institution such as UBC, the guiding principle for all activity on campus should be the Academic Mission of the university. Each plan that is created after the mission should refer back to the mission. The process for developing plans should also logically follow from the Mission, for example, the Vision, Academic Plan and then all other plans. The focus of current campus development is concentrated on non-institutional uses, which has implications for the functioning of the institution.
It has been said that UBC is currently in a mid-life crisis that is continuing and has many manifestations with each president. University vs. City are not synonymous although the two should support each other. The fact that all UBC universities are out of town creates a dichotomy and changes the way an academic institution is run. This introduces a new era for academic institutions such as UBC, presenting a challenge for the administration of the university to come to terms with current wave and direction of development while still adhering to the reason the university is here in the first place: academia.
Footnotes
It appears that in July 2003 the Advisory Design Panel was re-established with a new Terms of Reference.
References
Time Line
1980
President:

Douglas T. Kenny

Buildings:

Advisory Design Panel:

Establishment of an Advisory Design Panel to review architectural submissions for new buildings on campus.
1981
President:

Douglas T. Kenny

Buildings:

Coal and Mineral Processing Laboratory
1982
President:

Douglas T. Kenny

Buildings:

School of Family and Nutritional Sciences Building
Public Safety Building
Fraser River Parkade

Campus Development Proposal:

The 1982 proposal sought to focus on the historical aspects of the campus and attempted to re-establish a sense of order on campus through the arrangement of building orientation, circulation, and open space.
1983
President:

Douglas T. Kenny/K. George Pedersen

Buildings:
1984
President:

K. George Pedersen

Buildings:
1985
President:

K. George Pedersen/Robert H. T. Smith/David W. Strangway

Buildings:

Fairview Crescent Student Housing
PAPRICAN Building
1986
President:

David W. Strangway

Buildings:

Forest Sciences Trailer
Pulp and Paper Centre
1987
President:

David W. Strangway

Buildings:

Biomedical Research Centre
Biotechnology Laboratory
1988
President:

David W. Strangway

Buildings:

North Parkade
Acadia Family Housing – Phase II
1989
President:

David W. Strangway

Buildings:
1990
President:

David W. Strangway

Buildings:
1991
President:

David W. Strangway

Buildings:

Advisory Design Panel:

Advisory Design Panel disbanded.
1992
President:

David W. Strangway

Buildings:

Main Campus Plan:

The Main Campus Plan establishes the principles and strategies for growth, development and management of the northern portion of the University of British Columbia. This area is bounded by the escarpment to the north, Marine Drive to the west, Thunderbird Boulevard to the south, and Wesbrook Mall to the east.
The Main Campus Plan is the product of a cumulative process of analysis and synthesis which began in 1989, and ended in June 1992.  The plan was ratified by the Board of Governors on the recommendation of the President and Vice-Presidents on September 17, 1992.
A review of the Main Campus Plan is planned for 2004/05.
1993
President:

David W. Strangway

Buildings:

Point Grey Apartments
Centre for the Integrated Computer Systems Research/Computer Science (C.I.C.S.R/C.S.)
1994
President:

David W. Strangway

Buildings:
1995
President:

David W. Strangway

Buildings:

Student Recreation Centre
Thunderbird Residence
Advanced Materials and Process Engineering Laboratories (A.M.P.E.L.)
General McGavin Building
Morris and Helen Belkin Art Gallery
Neville Scarfe Library
NRC Institute for Machinery Research
1996
President:

David W. Strangway

Buildings:

St. Andrew's Hall – Residences
Walter C. Koerner Library
C.K. Choi Building for the Institute of Asian Research
1997
President:

David W. Strangway/Martha C. Piper

Buildings:

Centre for Continuing Studies
Sing Tao School of Journalism
St. John's College
Chan Centre for the Performing Arts

Official Community Plan:

The OCP is a document meant to guide the next stages of development on the UBC lands. The OCP contains a land use plan establishing general land uses including academic, research, and residential. Policies are included that relate to both institutional and non-institutional development; the OCP was primarily concerned with areas of campus that have not already been developed. Ideally the OCP sets out a vision for UBC that relates back the LRSP and the development of a more rounded community on the campus, accompanied by land use and transportation related objectives.
1998
President:

Martha C. Piper

Buildings:
1999
President:

Martha C. Piper

Buildings:

Leon and Thea Koerner University Centre

A Legacy & A Promise - Physical Planning at UBC:

Eight principles for physical planning on University lands. These are official University Policy and are one of the basis upon which future development proposals are compared.

Strategic Transportation Plan (STP) :

The STP was a requirement under the auspices of the OCP. It calls on the University to undertake a variety of measures to control traffic through surrounding communities through many Transportation Demand and Supply Demand Management Programs.
2000
President:

Martha C. Piper

Buildings:

Donald Rix Building
Liu Centre for the Studies of Global Issues

Comprehensive Community Plan:

The Comprehensive Community Plan provides another level of detail to the Official Community Plan and the distribution of growth throughout the campus. It provides entitlements for the eight local areas where non-institutional development may occur.
A requirement of the Official Community Plan (OCP) was to develop area plans to provide detailed local area planning for the eight local areas identified in the OCP. The Comprehensive Community Plan (CCP) was introduced to initiate local area planning with a comprehensive approach to implementing the policies of the OCP. The CCP interprets the policies and objectives of the OCP and together with the neighbourhood plans will serve as a framework for development approval processes.
2001
President:

Martha C. Piper

Theological Neighbourhood Plan:

Also referred to as Chancellor Place, the Theological Neighbourhood Plan was adopted in the Fall of 2001. It is expected to be developed over the next 15 years.

Mid Campus Neighbourhood Plan:

Also adopted in the Fall of 2001, the Neighbourhood Plan for Mid Campus aspires to create a new residential neighbourhood with a distinct "university town" character that combines residential use with academic influences, complements the adjacent core, and provides a high quality of life for its residents.
2003
President:

Martha C. Piper

Universal Transportation Pass:

Subsidized public transit pass for all students, introduced, September 2003
2004
President:

Martha C. Piper

University Boulevard Neighbourhood Plan

East Campus Neighbourhood Plan